Great news! As of this morning, the Zombie Ranch kickstarter reached 100% funding!
But that doesn't mean it's over! So if you haven't pledged yet, there's still plenty of time to get in on the action and help us push towards our first stretch goal! Uncle Chuck's stash is just waiting for us to get our grubby hands on it and pass it out to our qualifying backers, and includes a grab bag of swag such as bookmarks, temporary tattoos, and even custom crafted pendants like so: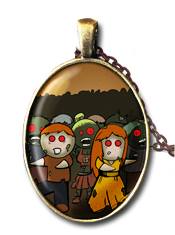 But the cunning old cuss won't let go of his stash for any less than $3700 in pledges, so we'll have to see how that shakes out when all's said and done. Still 16 days to go!
https://www.kickstarter.com/projects/labreject/zombie-ranch-a-tale-of-a-weird-new-west-volume-one
In the meantime, Free Comic Book Day is coming up on May 2nd, and Dawn and Clint will once again be at Player's Dugout Comics & Cards in Riverside, CA for sales, signings and commissions from 10am until closing.
Player's Dugout Comics & Cards, 9428 Magnolia Ave, Riverside, CA 92503
If you're in the area, come on by!